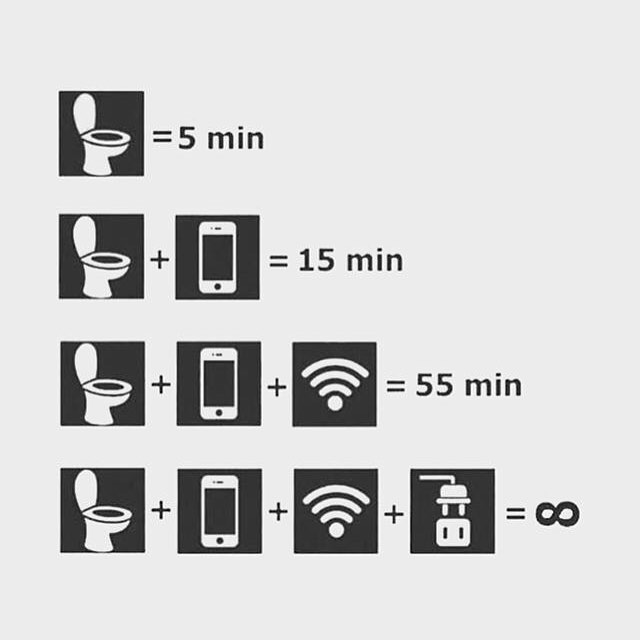 ◄ This image has been seen by you at least once around the web. It makes a lot of sense in our days, but some time ago, when WiFi was still crawling to become a massive thing, Smartphones weren't still a thing, most of the people that didn't own a computer usually browsed the web from a Cybercafe (but that's for another time).
I remember the bathroom at my grandma's house for one thing: it was full of magazines. It was impossible to sit down and not take a quick read about celebrity gossip on an assorted stock of variety magazines. There were times when you could find some newspaper sections, and I loved when the comic strips were at hand.
So, we old dogs that lived those times and got a hook on them were the first that decided to make a visit to the god of porcelain with the phone on one hand, sit tight for more than a few minutes and opened the news reader or the web browser while taking our stuff out. Literally.
But let's get back to the topic: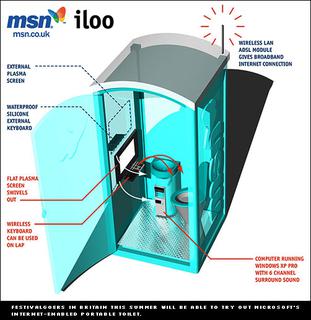 At some point in the near past, while Windows XP ruled and Internet Explorer 6 ruled the earth, Microsoft had an epiphany: What if we mount a couple of plasma screens with wireles keyboards to a properly hidden CPU with WiFi-ready internet on a portable toilet? That's how iLoo was born.
By these days, Microsoft was pushing MSN, they wanted it to be everywhere, even following you to the toilet when you were on some concert or festival.
The project was announced by MSN UK on April 30, 2003, and was widely ridiculed before being declared a hoax by Microsoft on May 12. On May 13, another Microsoft press release stated that although the project had not been a hoax, it had been cancelled because it would do little to promote the MSN brand.
The project was a part of a "series of MSN.co.uk initiatives which look at the changing nature of how we use the web as it constantly evolves". The press release stated that:
The UK's most popular website msn.co.uk is creating the world's first 'Internet Loo'. The iLoo will be mobile and is part of MSN's mission to allow instant logging on 'anytime and any place'. In time for the summer festival season, MSN is in the process of converting a portable loo to create a unique experience for surfers looking for an alternative to the bog-standard festival loo experience. Users will be able to sit down, undock a wireless keyboard and conveniently access the first ever WWW.C.
If you think that's enough for a bad idea, the press release also stated that:
MSN is also in talks with toilet paper manufacturers to produce special web paper for those in need of URL inspiration
Although the product was not publicly released, many questioned whether "Microsoft had lost its senses" and the product was widely derided. Critics contended that the product was a waste of money and doomed to fail. Concerns were raised about how the iLoo would serve to extend waiting lines, how hygienic it would be to share keyboards in a public loo, and what would happen if the keyboard were to be urinated upon. Critics also questioned whether users would spend enough time in the loo to make use of the internet facilities, noting that "most port-a-potty users stay only long enough to relieve themselves without having to inhale."
So, the next time you think you are having a bad idea, you can always take a look at this and conclude that you're not the first.
Source: Wikipedia